The American Communications Network is a telecommunications company based in North America. It was built in 1993 with just a small number of employees. Today, it is an international business with thousands of employees all across the globe making it one of the largest direct selling companies in the world. It operates using the multi-level marketing concept.
What products do they offer?
The products offered by ACN Inc. is categorized into two: residential and business.
• Residential products and services – ACN offers a wide array of products and services for residential consumers include home phone service (unlimited calls to more than 80 mobile and landline destinations), high speed internet, wireless service (contract and no contact phone plan), XOOM energy (a natural gas service), satellite television (Dish and DirecTV), home security and automation.
• Business products and services – It includes all the products and services in the residential category. However, business clients can take advantage of the Anovia payment and processing system. What is it all about? It is a credit card payment processing service that can process all types of payments, be it a credit card, debit, e-commerce, and e-checks. Get more information here for ACN Avis
The compensation package
What makes ACN extremely famous is the business opportunity it offers to people who want to be a part of ACN's growing family. All you have to do is to sign up as an independent business owner (IBO) and you get to enjoy the company's compensation plan. There are three ways to earn income with ACN. These are the following:
• Personal residual income – It includes the percentage of income you make based on the customers you personally acquire. You get to enjoy a commission that ranges between 2% to 8% of the customers total monthly billing.

• Team residual income – It includes the percentage of income you receive based on the number of people recruited by the people you recruit in your team. ACN has a 7 level uni plan. If you are the person on top, the people you recruited will automatically occupy the first level. The people recruited by your recruit will fill the second level until such time that all seven levels are filled. As your team grows, you get to enjoy a huge commission. This is why it is important to build a solid team.
• Customer acquisition bonus – It is a one-time upfront bonus paid to you from recruiting new customers. If the person you recruited opt to sign up as a team trainer, you get to receive a bonus ranging from $90 to $275. The actual amount depends on your leadership rank.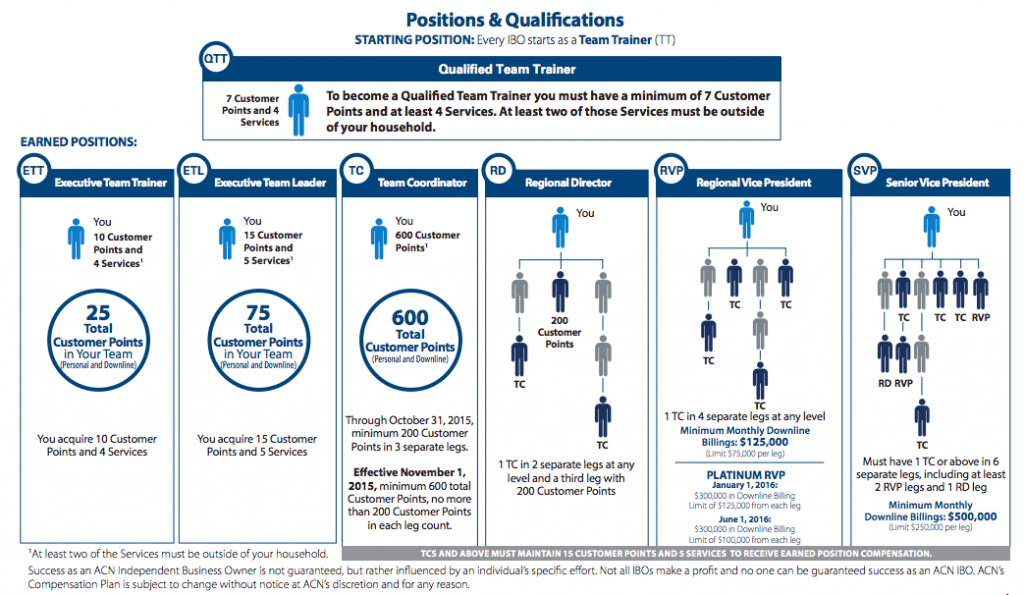 Becoming an independent business owner (IBO)
For you to be an independent business owner (IBO), you should fill out an individual business owner agreement form. There will be a corresponding fee of $499, which is basically a start-up fee. The perks of being independent business owner is you get to have access to the ACN portal where you can easily sell the products and services of ACN to potential clients. You are not ACN's employee. You are a contractor.
You, being an independent business owner have the freedom to work on your own time and pace.
ACN Inc. is a global business. People from all walks of life are welcome. It does not matter whether you are an experienced network marketer or not. What matters the most is your willingness to learn ACN's business concept. There is no limit to how much you can make. If you want to enjoy time and financial freedom, then be a part of the growing family of ACN. It is a legit business with endless income opportunity.